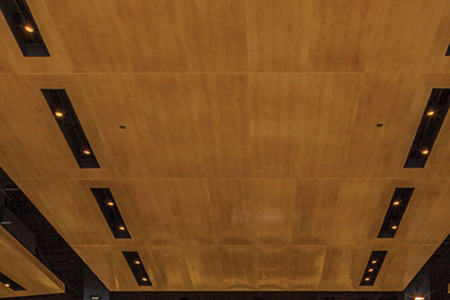 Our Torsion Spring metal ceilings deliver style and ease with its versatile carrier/grid system. Both flat and curved panels swing down ensuring safe access.
TORSION SPRING - SEGMENTED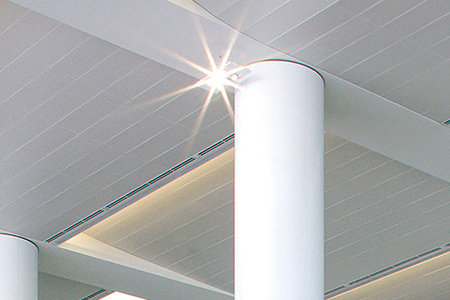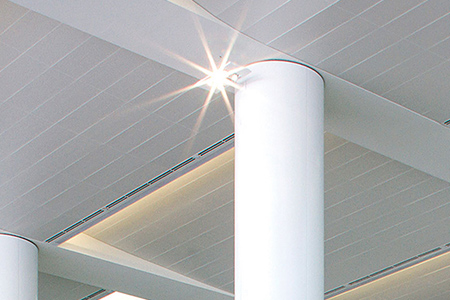 Designed using flat panels in a curved carrier, Torsion Spring Segmented metal ceilings offer point access and 100% access to the plenum from swing down panels.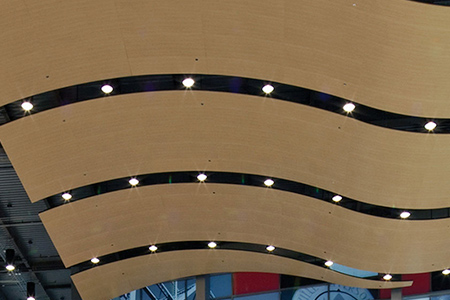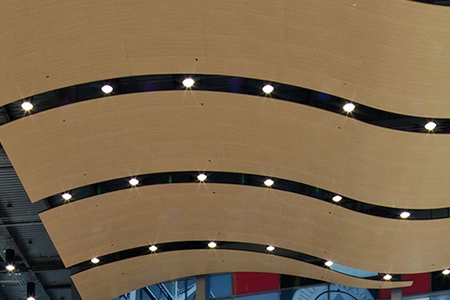 Engineered to allow for curved panels to swing down from the plenum with ease, Torsion Spring Curved ceilings utilize a universal carrier/grid system for a stylish ceiling option.
TORSION SPRING - GEOMETRIES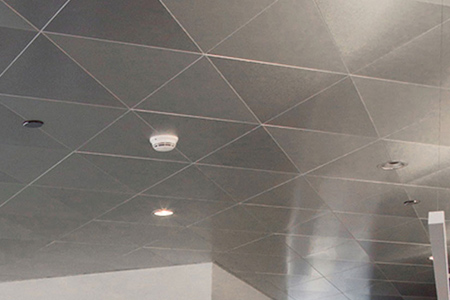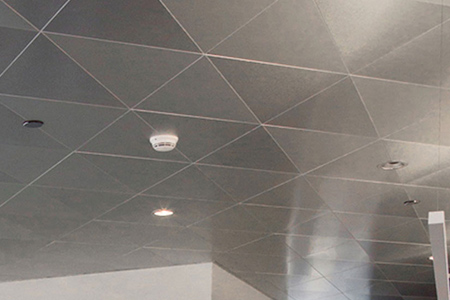 The engineering of our torsion-spring system supports a range of shapes, including custom polygons, while square-edge design provides for seamless fit.
PLAZA™ LARGE-FORMAT HONEYCOMB PANELS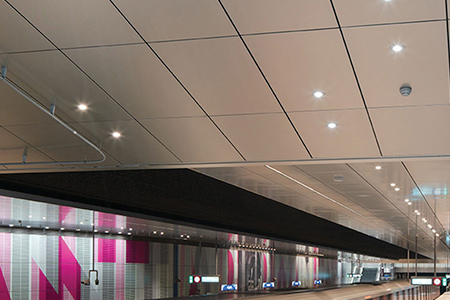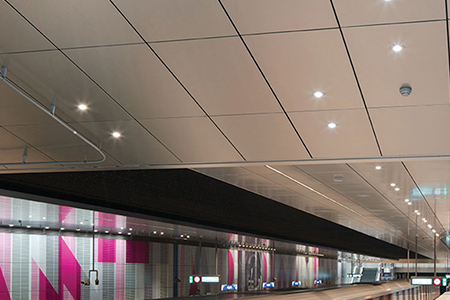 Large-format PLAZA™ panels use honeycomb construction to provide acoustical value with superior rigidity and flatness.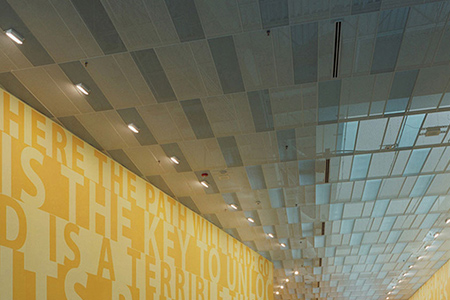 We optimized our Hook-On ceiling panels for those who need the most adaptable and customizable metal ceiling available.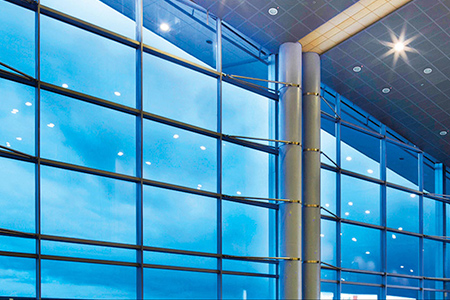 Simple and cost-effective commercial metal ceiling systems. Lay-In metal ceilings offer classic ceiling solutions, featuring recycled content, numerous sizes and edge options.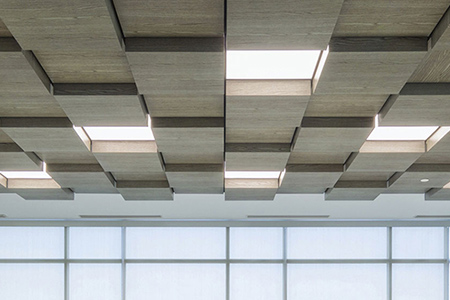 Add movement to the ceiling with Lay-In Levels. A variety of panel sizes, depths and finishes create topography in the metal ceiling that are both economical and creative.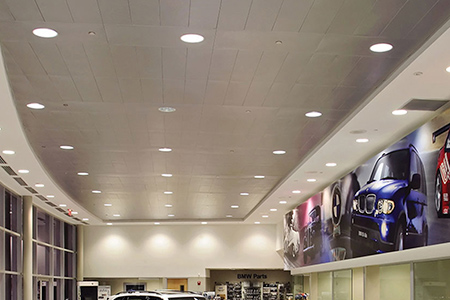 Tried, true, and proven. Snap-In metal ceiling panels feature exceptional durability and sustainable composition for commercial ceiling design.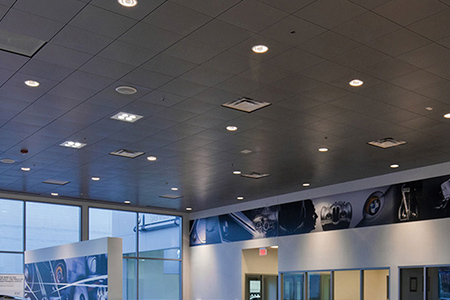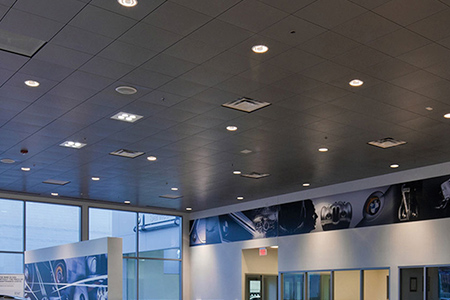 Gladius™ offers innovative installation with an audible "click" confirming proper installation.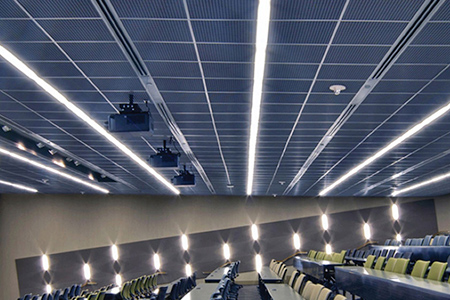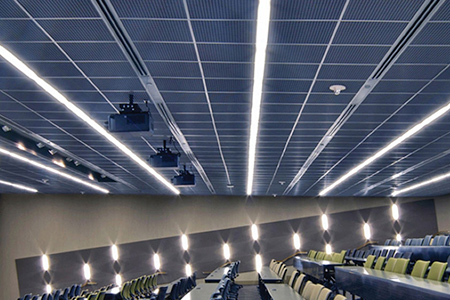 For versatility, creativity and economics in your ceiling, our Metalinx™ line of woven wire and expanded metals can provide adaptability with a variety of materials and design choices.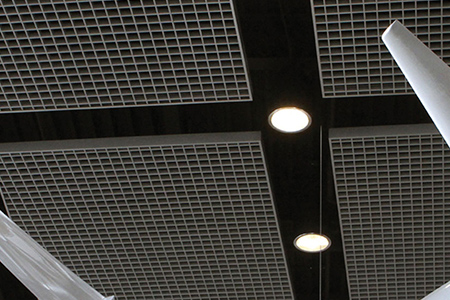 Add texture to the ceiling plane with Open Cell systems. Featuring easy access to lighting, ventilation and security, the system offers.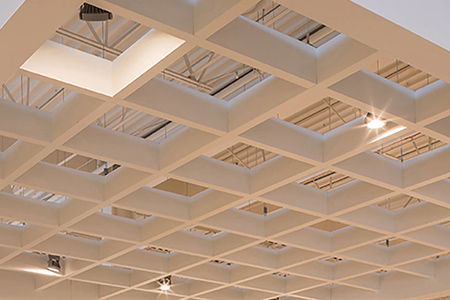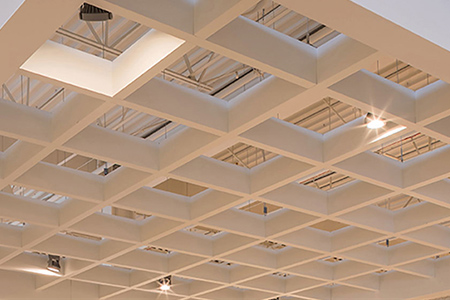 Our Tavola Frames ceilings deliver the clean look of structural beams, with support for square, rectangle and patterned design.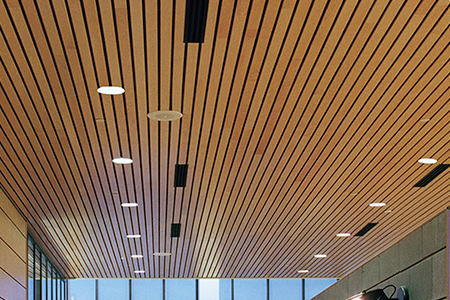 Our Box series of metal ceiling systems deliver both style and sustainability to any commercial project.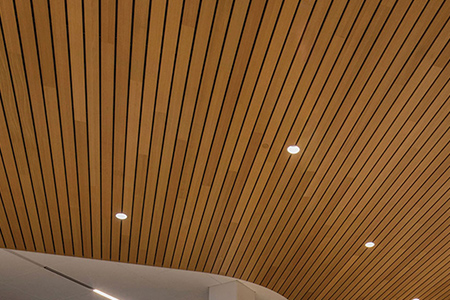 One of our most versatile metal ceiling solutions, the Deep Box Series is designed to maximize options in design with profiles giving stronger reveals.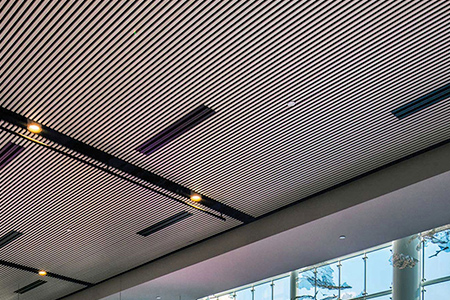 Ceiling screens that hide subsystems and block noise. NRCs up to 1.05.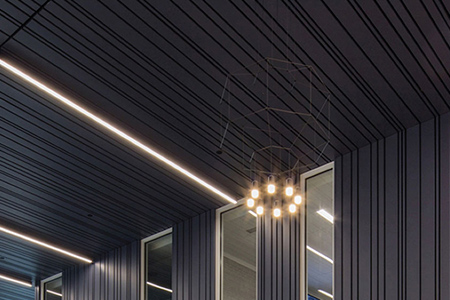 Known for crisp module definition, stylish and sustainable design, our Multi-Box Ceilings offer solutions made with up to 92% recycled aluminum.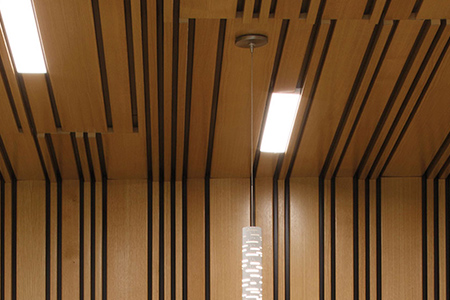 Multi-Box Networks offer unique design opportunities with mix and match patterns to establish texture and movement.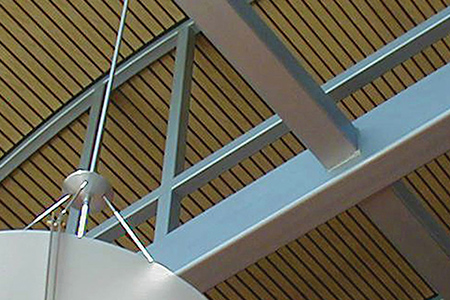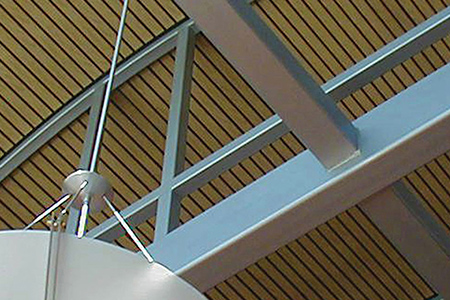 Known for its fluid lines, versatility, and easy installation, 84R metal ceilings provide a rounded linear aesthetic.
HIGH PROFILE SERIES™ - STRAIGHT BAFFLE CEILING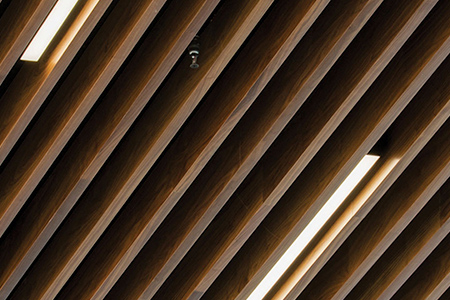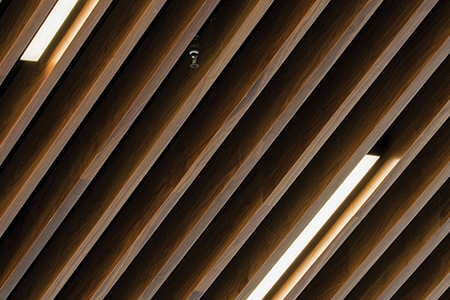 Accessibility and a multitude of design options, High Profile Series™ Straight Baffle ceiling system creates modern design with exacting fit and finishes.
HIGH PROFILE SERIES™ - HORIZONTALLY CURVED BAFFLES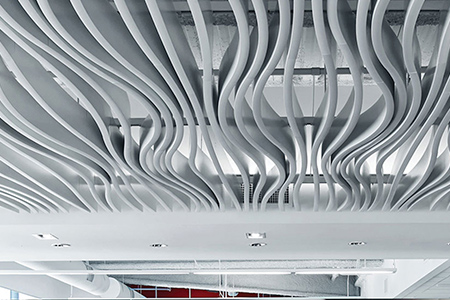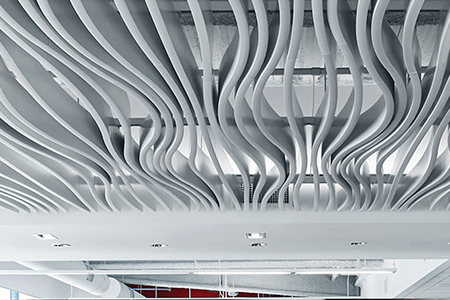 Modern curves and engaging textures. High Profile Series™ Horizontally Curved Baffle ceiling system use extruded aluminum profiles to create playful.
HIGH PROFILE SERIES™ - VERTICALLY CURVED BAFFLES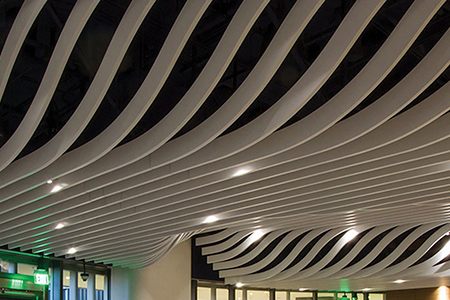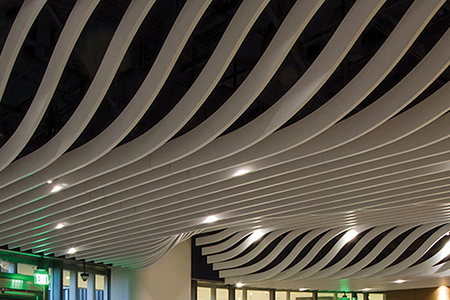 Creating waves across the ceiling plane, the High Profile Series™ Vertically Curved Baffle Ceiling System features versatile, customizable designs.
HIGH PROFILE SERIES™ - FRAMEWORKS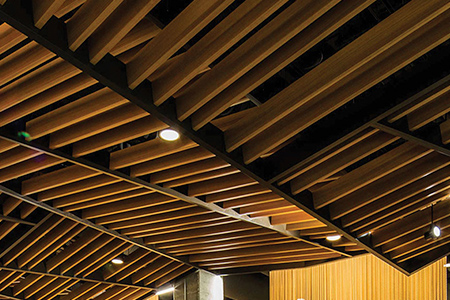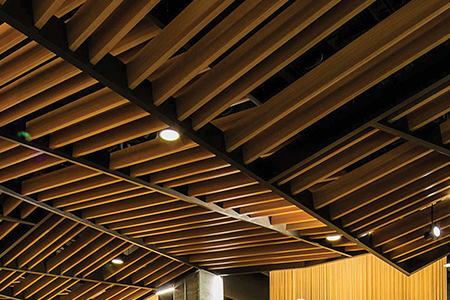 Project-specific engineering, robust extruded profiles and precision forming create signature wall and ceiling designs.
TAVOLA™ PRIME BEAMS & BAFFLES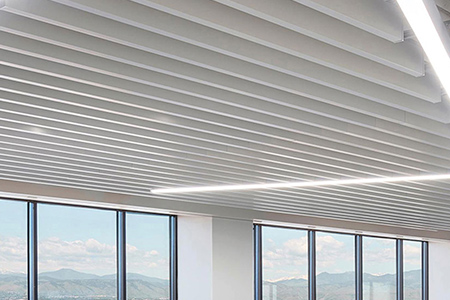 Tavola™ Prime Beam and Baffle Series offer lightweight aluminum solutions for interior commercial spaces.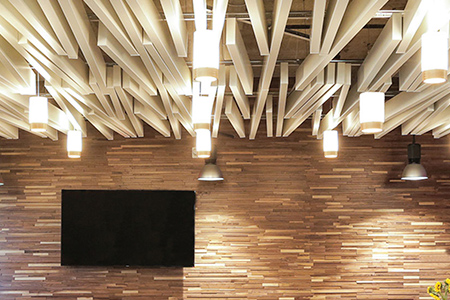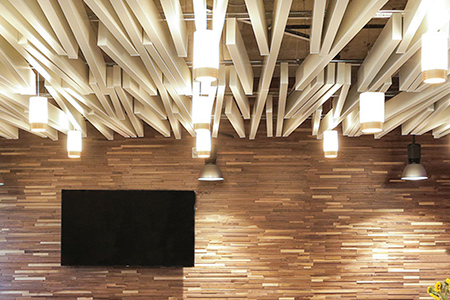 Non-parallel, diverging beams and baffles create organic textures in an unlimited variety of configurations for interior applications.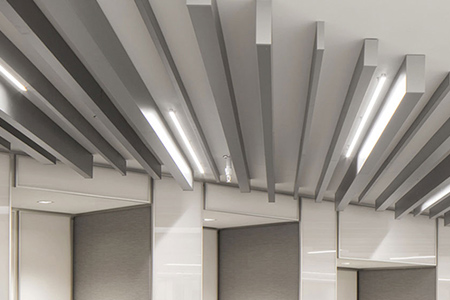 Create topography and rhythm at interior ceiling planes by combining beams and baffles of multiple heights and reveals.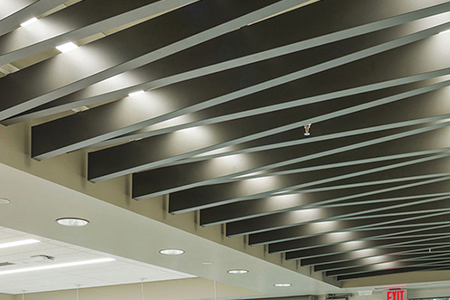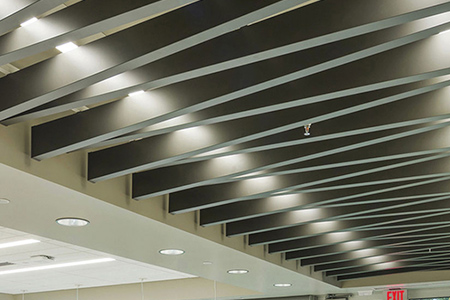 Tavola™ Canted metal ceilings offer modern design aesthetic and elevated acoustics. Individual sloping beam members establish a sense of motion in interior ceilings.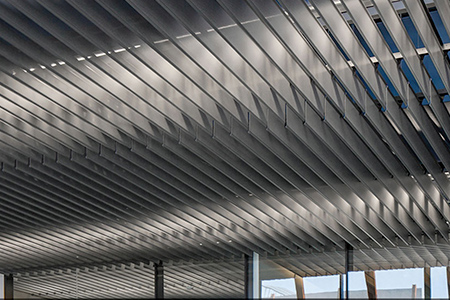 Clean, slender lines of V-Baffle Fins offer contemporary metal ceiling solutions with one-way plenum access.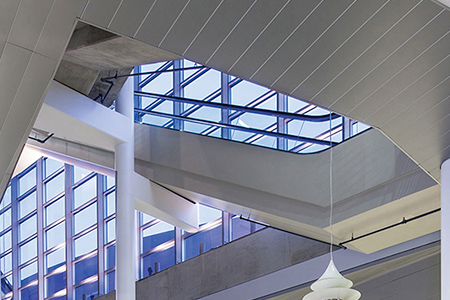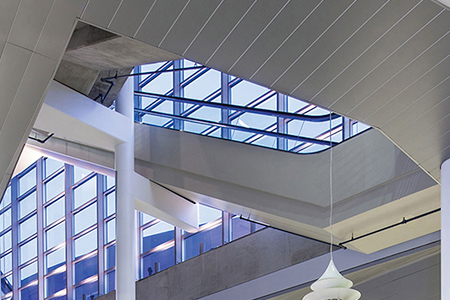 300C metal ceiling panels offer a subtle, long span design for interior and exterior ceilings. Created with proprietary manufacturing processes that ensure flatness.
150F - LINEAR METAL SOFFIT SYSTEM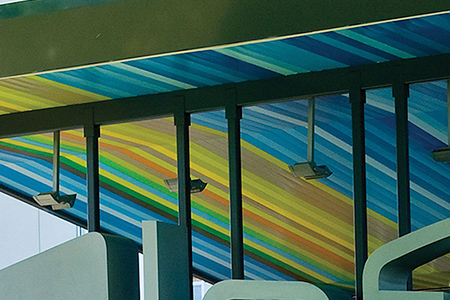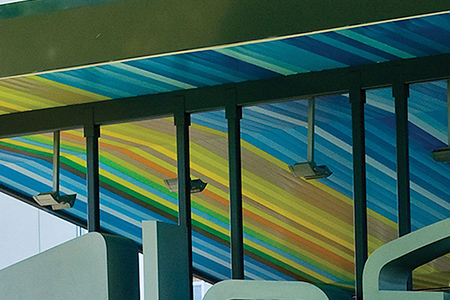 Designed to withstand harsh environments, the 150F Exterior metal ceiling system is ideal for soffit applications. Appropriate for vertical and horizontal installations.
300C - LINEAR PLANK – EXTERIOR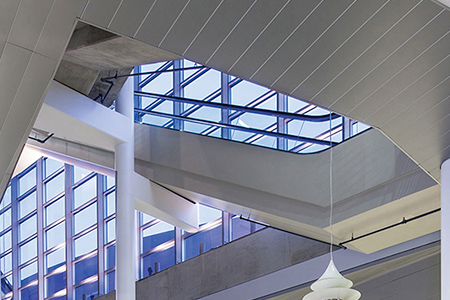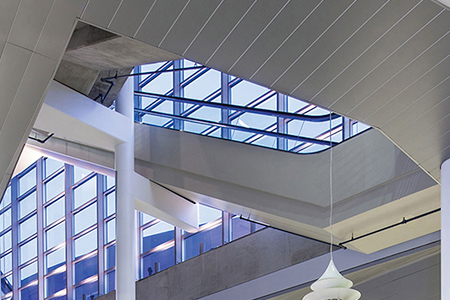 Long, uninterrupted panel lengths make our 300C ceiling system a good choice to make a big impression.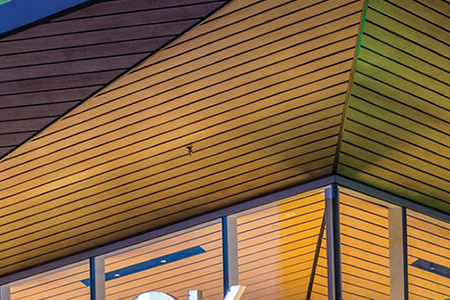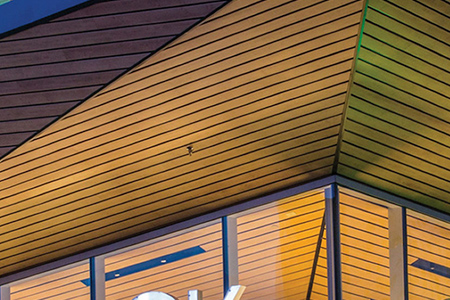 Designed to withstand elements of various environments with sleek design and impressive performance.
DEEP BOX SERIES – EXTERIOR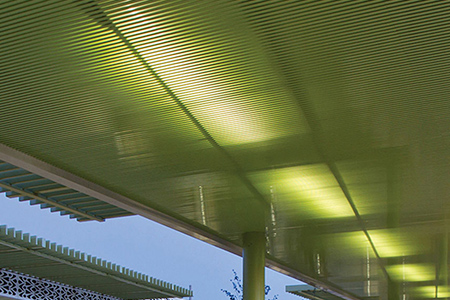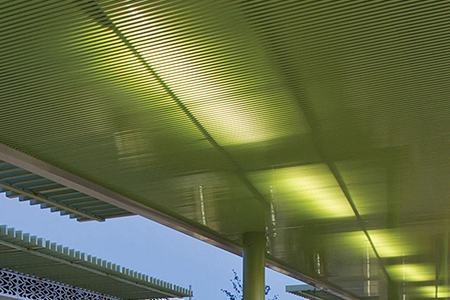 Bringing crisp module definition to the exterior environment, Deep Box Series Exterior metal ceilings maximize design flexibility to meet the performance.
MULTI-BOX CONTINUOUS - EXTERIOR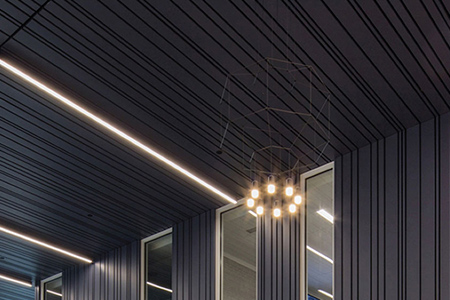 The universal carrier system behind our Multi-Box Exterior Linear ceilings supports unlimited combinations of Box and Deep Box panels at 2″, 4″, 6″ and 8″ widths.
TORSION SPRING - EXTERIOR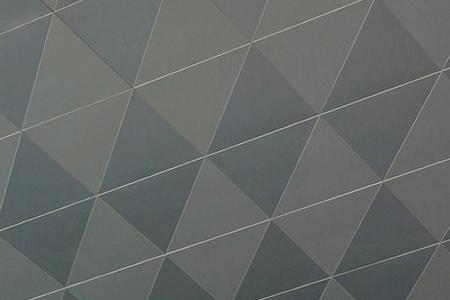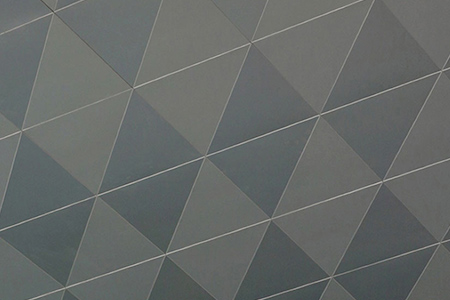 Strength and durability in our Exterior Torsion Spring metal ceilings make for ideal exterior applications.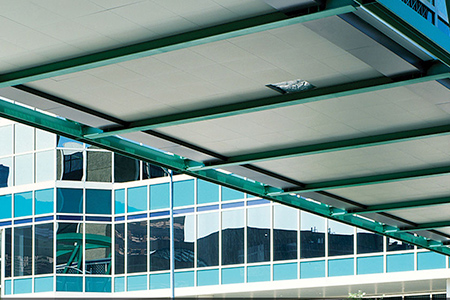 With square-edge design and clean aesthetic, Exterior Plank metal ceilings provide solutions when heavy-duty non-accessible soffits are needed.
HEARTFELT™ LINEAR CEILINGS & WALLS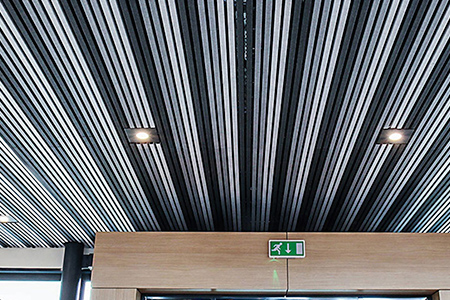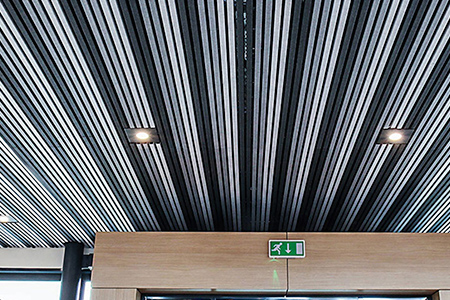 Bringing the pleasure of proven polyester felt to the ceiling plane, patented HeartFelt linear ceiling panels join crisp linearity with unexpected softness and texture.
HEARTFELT™ LEVELS CEILINGS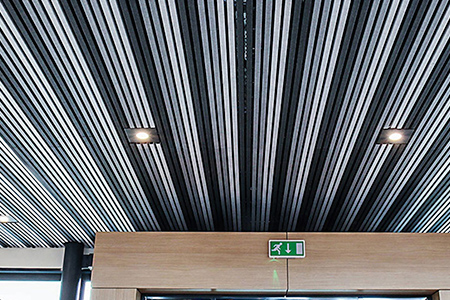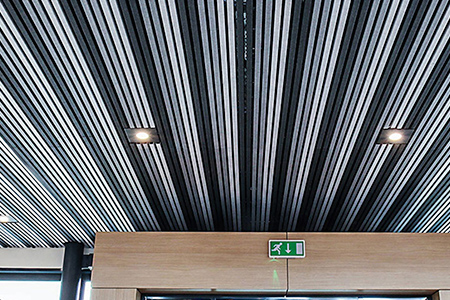 In addition to warm visuals and acoustic performance, usher in greater dimensionality to the softness of felt with our HeartFelt™ Levels.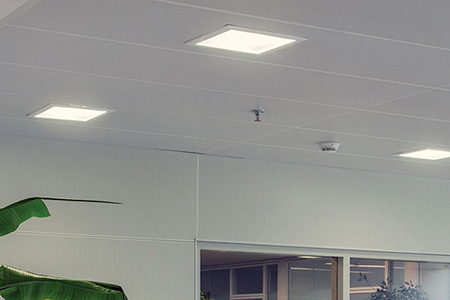 Modern, artistic focus for wall applications. Whether in tandem with ceiling design and finish or stand-alone applications, Metal Walls.
At Clare Interiors, we have everything you need to get your job done right and on schedule.
Let's grow together.